With the United States receiving significant federal support for solar and storage in the Inflation Reduction Act, excitement for renewable energy technologies is growing at a record pace. In southeastern North Carolina, home and business owners are taking full advantage of financial incentives by installing solar and energy storage solutions in order to brace for this year's very active storm season. Cape Fear Solar Systems was recognized for its increased effort as the leading solar installation company in our region—being named the Greenest Contractor in the United States and taking a top spot on the 2023 Top Solar Contractors List, released by Solar Power World.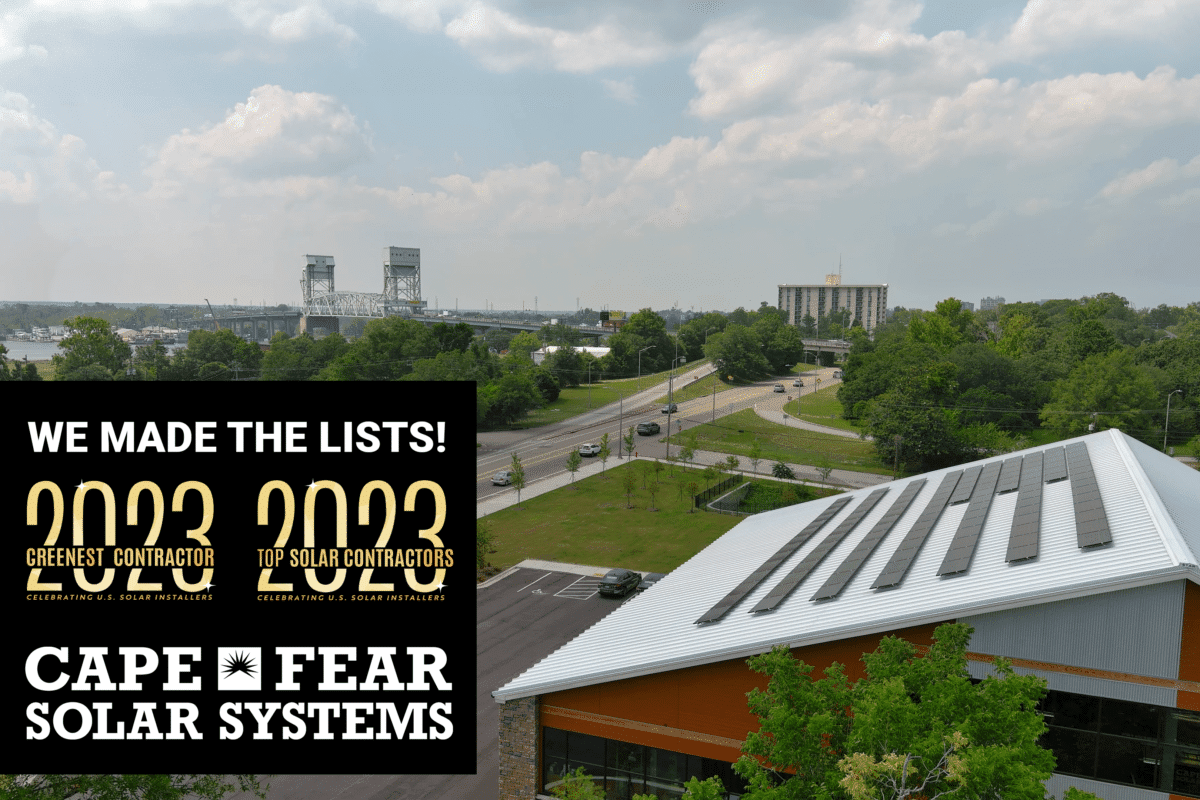 Cape Fear Solar Systems is thrilled to be named the Greenest Contractor in the United States. Their facility features solar panels installed on the rooftop in the shape of an American flag. Robert Parker, COO for Cape Fear Solar commented, "We are honored to win the 2023 Greenest Contractor Award by Solar Power World magazine. This recognition is a testament to the hard work and dedication of our entire team in promoting sustainability within our facility and throughout our local communities. At Cape Fear Solar Systems, we strongly believe in the importance of environmental sustainability, and our new warehouse is evidence of this commitment with the use of solar energy, geothermal climate control and campus-wide recycling. It's our mission to empower our region to live better by making it easy and affordable for home—and businessowners to go solar, creating a greener future for our region."
"Renewable energy accounts for a quarter of U.S. electrical generation, now far exceeding electricity produced by burning coal," said Kelsey Misbrener, managing editor of Solar Power World. "Solar power is an important member of that renewable makeup, and companies on the Top Solar Contractors List are all contributing to our country's shift to cleaner electricity. We are honored to recognize them each year for their necessary work putting green kilowatts on roofs, over parking lots, in desert locations and across water reservoirs. Every project is making a difference."
Cape Fear Solar Systems employs 52 workers who installed 8,033 kWs of solar power in 2022. Cape Fear Solar Systems facility is located at 901 S. Front Street in Wilmington, NC and welcomes anyone looking into clean energy technology to stop in to see products, meet the team, and co-create energy solutions with a project developer.
About Cape Fear Solar Systems, LLC
Cape Fear Solar Systems is currently ranked as the number one installer in southeastern North Carolina by Solar Power World. Established in 2007, the company has designed and installed nearly 4,500 local solar systems to-date. Cape Fear Solar's pride is in its team, providing the highest quality of craftsmanship for residential and commercial customers. Cape Fear Solar offers turnkey energy systems such as photovoltaic (solar electric) panels, home batteries, and electric vehicle charging stations, products, and material. Additionally, customers receive unlimited post-installation support.  To learn more about Cape Fear Solar visit www.CapeFearSolarSystems.com.
About Solar Power World
Solar Power World is the leading online and print resource for news and information regarding solar installation, development and technology. Since 2011, SPW has helped U.S. solar contractors — including installers, developers and EPCs in all markets — grow their businesses and do their jobs better.